They're here and it's all thanks to our generous donors! In July we welcomed an additional four new international fellows. All are eagerly looking forward to working at Sydney Eye Hospital with our world class professionals.
Our Fellowship Program is now in its 31st year and provides once in a lifetime experience to outstanding clinicians who will become the next generation of ophthalmic leaders. Thanks to community support Sydney Eye Hospital Foundation has committed $440,000 to support 8 Fellows in 2022.
Together with the Heads of Department of Sydney Eye Hospital, we recruit doctors who are fully-qualified ophthalmologists in their respective country.
Dr Andrew Chang, Head of Ophthalmology said, "They are selected competitively on merit and importantly, if from overseas, intend to return to their country to provide much needed speciality services there.
"Our eye speciality departments are committed to the Fellowship Program which affords unparalleled access to the best in medical and surgical ophthalmology training, and our fellows work side–by–side leaders in the field and importantly train our junior doctors."
Australia's first hospital, now known as Sydney / Sydney Eye Hospital provides surgical and medical management across 7 sub-specialities of Vitreoretinal, Medical retina, Cornea, Glaucoma, Strabismus, Oncology Neurophthalmology and Uveitis.
Since 1991 Sydney Eye Hospital Foundation has funded 142 Ophthalmology Fellows from 26 countries.
"Fellows enrich the hospital in many ways and are often described as central and fundamental to our service delivery to patients," said Linda Fagan, Chief Executive of Sydney Eye Hospital Foundation.

"We would like to express our heartfelt gratitude to all who donate to the Foundation. With an ageing population, there is increasing demand on services and we need to raise much more funding to support the hospital," Linda said.
If you would like to support the Fellowship Program please donate here or contact the Foundation to discuss the special opportunities available info@sehf.org.au
Sydney Eye Hospital 2022 Honorary Fellows (July intake):
Dr Noha Ali
Medical Retinal Fellow
Noha completed her ophthalmology training at Assiut University Hospitals, Egypt, and achieved an MD degree in Ophthalmology. She completed a medical retina research fellowship at Lions Eye Institute, WA, and an observership at Royal Victorian Eye and Ear Hospital. She is a fellow of the International Council of Ophthalmology and a member of the Royal College of Surgeons of Edinburgh. Noha is excited to join the Medical Retina team at the prestigious Sydney Eye Hospital.
Dr Marlo Cancio
Oculoplastic Fellow
Lorenzo Maria R. Cancio, also known as Marlo, is the first Filipino to train in Oculoplastic surgery at Sydney Eye Hospital. He graduated with a double degree in Doctor of Medicine (MD) and Master in Business Administration (MBA) at the Ateneo School of Medicine and Public Health. He then took up four years of Ophthalmology Residency Training at the Quirino Memorial Medical Center in the Philippines where he served as the Chief Resident in his final year. He has a passion for sketching and the arts, as well as building scale models, which led him to pursue Oculoplastic and Reconstructive surgery. He dreams of establishing a solid practice in Orbit and Oculoplastics accessible to Filipinos particularly in the provinces.
Dr Sheng Chiong Hong
Corneal Fellow
Dr Sheng Chiong Hong studied medicine at the Royal College of Surgeons in Ireland, and the RCSI & UCD Malaysia Campus. He then obtained his postgraduate research degree, Master of Ophthalmology (Distinction) from the University of Otago and completed his ophthalmology specialty training programme in New Zealand. He did a six month fellowship in glaucoma, cataract, and lid surgery in Dunedin prior to joining the cornea unit at the Sydney Eye Hospital.
Dr Zeid Madanat
Dr Eddie Donaldson Vitreoretinal Fellow
Zeid Madanat was born and raised in Jordan where he completed his medical degree from the University of Jordan. After completing a post graduate basic medical training Zeid transferred to the UK to train as an ophthalmologist. During that time, Zeid participated in numerous national and international research projects mainly involving the retina and completed a Vitreoretinal fellowship at Bradford Teaching Hospitals.
Zeid is excited to join the team at the renowned Sydney Eye Hospital to complete his vitreoretinal fellowship. With a love of travelling and exploring new cultures he is looking forward to experiencing all that Australia has to offer.
Zeid intends to move back to Jordan after completing his fellowship in Sydney to share the knowledge and experience with colleagues and patients.
Sydney Eye Hospital Foundation 2022 Honorary Fellows (January intake):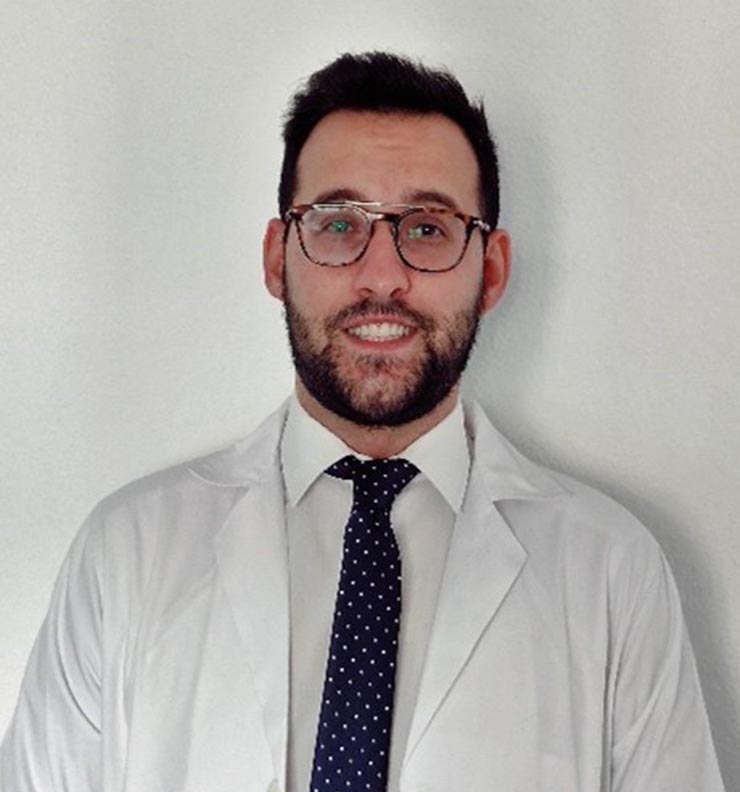 Dr Javier Lacorzana-Rodriguez
Corneal Fellow
Dr Javier Lacorzana-Rodriguez is an ophthalmologist trained in Spain. He has completed various Masters including Master of Tissue Engineering. Currently, he is completing his international Ph.D. (Spain and Australia) in the area of cornea and tissue engineering.
Cornea, Ocular Surface, and Glaucoma are his main areas of interest, both clinical and research. To date, he has published more than 32 articles and participated in the publication of seven books. He has received several grants and awards for his works and devotes part of his time to scientific divulgation in ophthalmology through his social media (@dr.lacorzana). Furthermore, he has the honour of being designated as President of the Young Ophthalmology Section of Spanish Society of Ophthalmology.
Javier is looking forward to participating in research projects and fulfilling his dream of becoming a cornea surgeon, learning from the world-renowned and highly trained staff of the Cornea Department at Sydney Eye Hospital. Moreover, he is also keen to explore Australia in his free time. In short, he will be eternally grateful to our foundation and hopes that we can continue to build bridges among countries with our selfless fellowship programme.
Dr Rhuen Chiou Chow
Graham Lovett Vitreoretinal Fellow
Rhuen Chiou obtained her Medical Degree from the University of New South Wales, Sydney, Australia. She then returned to Malaysia to pursue Masters of Ophthalmology and went on to complete a one-year Vitreoretinal Fellowship. In this coming year, she is excited to work under mentorship of world renowned surgeons at the prestigious Sydney Eye Hospital. She hopes to gain invaluable skills and confidence to continue her career as a vitreoretinal surgeon in Malaysia. Rhuen is looking forward to meeting both old and new friends while re-exploring beautiful Sydney.
Dr Gerard Reid
Uveitis Fellow
Gerard studied medicine at Queen's University Belfast, Northern Ireland and after foundation training he completed a further MSc in Retina at University College London/Institute of ophthalmology. Following this, he completed ophthalmology speciality training in Northern Ireland deanery, UK and achieving Fellow of the Royal College of Ophthalmologists, UK. During training Gerard developed interest in Uveitis, investigating and managing difficult cases as well as surgical management of complications of uveitis.
Gerard is excited to begin this Fellowship in Sydney Eye Hospital and work with the world class uveitis unit here, furthering his training in managing complex uveitis cases. In addition there is a unique opportunity to expand his experience in clinical research whilst working with the unit. These skills will be of value during his future career when he returns to his home region of Northern Ireland to work as part of the uveitis/glaucoma service there.
Dr Kalliopi Giannopoulou
Glaucoma Fellow
Kalliopi studied medicine in Aristotle University of Thessaloniki (Greece) and graduated at the same time from the Medical Department of the Military school of Combat Support Officers. She completed her Ophthalmology training in the National and Kapodistrian University of Athens and obtained her Master Degrees in Ophthalmic Imaging (Democritus University of Thrace, Greece) and in Public Health (National School of Public Health). Very early in her training she developed a special interest in the field of glaucoma and she is excited about this unique opportunity to advance her clinical and surgical skills by working with renowned glaucomatologists in Sydney Eye Hospital. She is looking forward to experience Australian lifestyle and to explore this fascinating country.