Every year the Sydney Eye Hospital Foundation funds a number of Fellowships.
Experienced and talented eye doctors from Australia and overseas can apply for these 12-month positions, each in a different specialisation. Fellowships are keenly sought after and are a key Foundation funding goal: the worldwide exchange of knowledge and skills is vital.
Foundation Fellows work with patients, help train students in their specialisation and participate in research. The Sydney Eye Hospital benefits in numerous ways from these programs, including clinical research and national and international publication. Our Fellows return to their country with enhanced skills from their year on the floor of this fully operational Eye Hospital.
Our 2020 Foundation Fellows are:
Dr Saadiah Goolam
Corneal Fellow
Saadiah completed her Science and Medicine degrees at the University of New South Wales in Sydney. She relocated to South Africa where she completed her Ophthalmology training and was awarded the Neville Welsh medal for part one of the fellowship exams and the Elie Dahan Ophthalmic Surgery and Registrar of the Year award. She completed a Masters of Medicine degree in Ophthalmology at the University of the Witwatersrand in Johannesburg. She enjoys participating in research and has presented her work at both local and international congresses. She was an international travel grant recipient for the Association for Research in Vision and Ophthalmology (ARVO) Congress in 2015. She is grateful to have been awarded this prestigious corneal fellowship training position and is excited to develop her clinical and surgical expertise in the field. She has travelled to Sydney with her 3 children and looks forward to exploring the beautiful Australian landscape with them, covid restrictions permitting.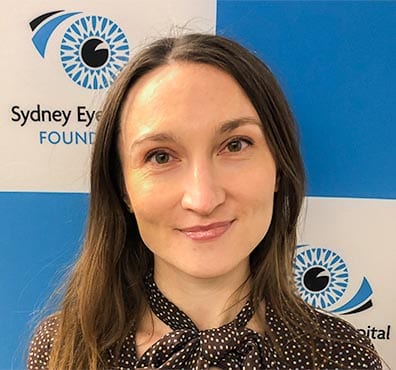 Dr. Katarzyna Chwiejczak
Dr. Eddie Donaldson Vitreoretinal Fellow
Kasia graduated from the Medical University in Warsaw, Poland with distinction. She completed residency program in Ophthalmology in Warsaw and is certified as a Fellow of the European Board of Ophthalmology. She continued higher training as an Ophthalmologist in England. After a year of medical retina research fellowship in Manchester she continued surgical training in Exeter and Cheltenham, focusing on Vitreoretinal surgery in the last year. She is very excited to fulfill her long-time dream of learning surgical techniques from the best surgeons in the field in Sydney Eye Hospital and deepen her knowledge about retinal diseases. As a keen traveler she is also looking forward to explore fascinating Australia- as much as time and COVID-19 allows.
Dr Janika Shah
Medical Retinal Fellow
Janika has completed her Ophthalmology training in India. She is a fellow of Royal College of Physicians and Surgeons of Glasgow. She worked in Singapore National Eye Centre for three years where she developed interest in Medical Retina. She is very excited to join the fellowship at Sydney Eye Hospital and gain knowledge & skills from renowned retina and uveitis experts. She is here with her family and look forward to explore beautiful Sydney and Australia.
Dr Tasneem Arsiwalla
Mabs Melville Corneal Fellow
Tasneem has trained in Ophthalmology in India and is delighted to get the opportunity to learn from and work with some of the pioneers in the field of Cornea. She enjoys the field on account of the surgical intricacies and the ability to have an extensive impact on vision. She has also done a Glaucoma Fellowship at Sydney Eye Hospital, is engaged in research projects exploring inherited eye diseases and plans to start a non-profit organisation in 15-20 years from now enabling patients to lead a life free from blindness. She is multi-lingual and proficient in 5 languages.
Dr Ana Luiza Mylla Boso
Corneal Fellow
Ana Luiza studied Medicine at the University of Santa Catarina, in Brazil. During her internship, she had the opportunity to do an Ophthalmology observership in Germany, where she discovered how fascinating and resolutive this specialty was. After the completion of her medical degree, she moved to São Paulo for her Ophthalmology Training and Cataract and Corneal Fellowship, where she also engaged in Ocular Surface research. She then worked in her home town, mainly performing cataract surgeries for patients who depend on public health care. Seeking to excel in her field, she is thrilled with the opportunity to enhance her skills with renowned professionals at Sydney Eye Hospital.
Dr Amaka Vera Ofoegbu
Oculoplastic Surgery Fellow
Amaka studied at the University of Ilorin in Nigeria, and trained in Ophthalmology at the Lagos State University Teaching Hospital. She is a Fellow of the West African College of Surgeons and also a Fellow of The Royal College of Physicians and Surgeons of Glasgow, United Kingdom. She has also completed an Oculoplastic Fellowship at University of Auckland/Greenlane Clinical Centre, New Zealand. She is enthusiastic about the year ahead in Sydney, and hopes to perfect her oculoplastic surgical skills. Amaka enjoys dancing, travelling around the world and long walks.
Dr Puspha Raman
Glaucoma Fellow
Puspha studied medicine in National University of Ireland and graduated with a valedictorian award. She regards ophthalmology as a rewarding field and strives to make positive impact in patient's life. Her special interests are in complex cataract surgeries and she has presented innovative surgical videos in international conferences. Having done the first part of glaucoma fellowship in University of Malaya, she is excited about this opportunity to work with renowned glaucomatologists in Sydney Eye Hospital and looking forward to improving her surgical skills in glaucoma surgeries. She is here with her children, hoping to fill their memories with lifetime experiences in beautiful Sydney.
Dr Muhammad Bayu Sasongko
Graham Lovett Vitreoretinal Fellow
Bayu completed his medical and ophthalmology training in Indonesia. He also obtained his PhD degree from University of Melbourne, where he was deeply engaged in retinal field. He is currently an academic faculty at the Department of Ophthalmology, Universitas Gadjah Mada, Indonesia. He is looking forward to learning from some of the best vitreoretinal surgeons in the world at Sydney Eye Hospital. He plans to return to Indonesia to improve the quality of VR service in Indonesia upon the completion of his fellowship. Outside of work, Bayu is excited to explore Sydney and the beautiful Australian landscape with family in the year ahead.
Dr Timothy Tang Lee Say
Medical Retinal/Uveitis Fellow
Timothy obtained his medical degree from the Faculty of Medicine and Surgery, University of Santo Tomas, Philippines where he finished as Class Valedictorian, Summa Cum Laude. He finished his residency in ophthalmology in the University of the Philippines-Philippine General Hospital. He recently finished his 2-year Vitreoretinal fellowship in Cardinal Santos Medical Center. He is excited to pursue further training in Medical Retina/Uveitis at the world-renowned Sydney Eye Hospital to improve his clinical skills, and to gain experience in conducting clinical research. He hopes to impart the knowledge gained here and serve as a Retina and Uveitis specialist in the Philippines.
Dr Emily Shao
Dr Eddie Donaldson Vitreoretinal Fellow
Emily graduated from Imperial College in London and completed her ophthalmology training in the UK. She has completed a one-year vitreoretinal fellowship at the Sussex Eye Hospital in Brighton. She is looking forward to the opportunity to work and learn from some of the best vitreoretinal surgeons in the world at Sydney Eye Hospital. After completing her fellowship, she plans to return to the UK to work as a vitreoretinal consultant. Outside of work, Emily plans to explore Sydney and the beautiful national parks in Australia in the year ahead.
Dr Anagha Vaze
Professorial Uveitis Fellow
Anagha studied medicine in India and after completing her Ophthalmology training there she did advanced training in Ophthalmology in Australia including a Medical retina & Uveitis Fellowship at the Royal Adelaide Hospital, Medical Retina Fellowship at the Sydney Eye Hospital and General Ophthalmology training at the Flinders Medical Centre in Adelaide. Anagha is thrilled to join the Professorial unit at Sydney Eye Hospital to refine her skills in Uveitis and Medical retina and learn from the best in the field.